Part 2 Starts… Now!
This is Part 2 of the 5th Annual Ohio Toy and Comic Show where sat down with some pretty amazing people. Guests this episode include Flying Pork Apparel, What's on Joe Mind Podcast, Wes Whitlock, and more!
Where to find our guests online:
Part 2:
Joe Colton Cosplay | Facebook
Mary Mercenary Cosplay | Facebook
Flying Pork Apparel Co. | Website
What's On Joe Mind Podcast | Facebook
Revenge City Cosplay (Wes Whitlock) | Facebook
If you missed it check out our awesome interviews from Part 1:
Master Daniel Pesina | Facebook | Website
Aaron Dietrick/ROMA Collectibles | Facebook | Website
Josh Pence | YouTube | Instagram
Toybills | Instagram | YouTube
Joe Colton Cosplay | Facebook
Mary Mercenary Cosplay | Facebook
New Comics This Week – Sponsored by comiXology

Contact Us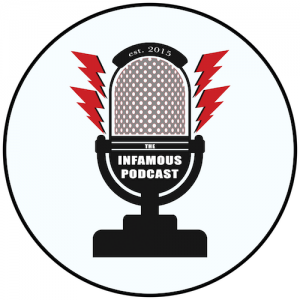 The Infamous Podcast can be found wherever podcasts are found on the Interwebs, feel free to subscribe and follow along on social media. And don't be shy about helping out the show with a 5-star review on Apple Podcasts to help us move up in the ratings.
@infamouspodcast
facebook/infamouspodcast
instagram/infamouspodcast
stitcher
Apple Podcasts
Google Play
contact@infamouspodcast.com
The music in this episodes is Moose from Bensound.com. The Infamous Podcast is Johnny Pottorf and Brian Tudor and is produced and edited by Brian Tudor.

Subscribe today!

from The Infamous Podcast https://ift.tt/2Ksvvhj
via IFTTT