At The Movies… and on the TV… and on the Internet!
This week on the podcast Johnny and Brian are talking about some of the great new movie, TV, and Animated trailers from 2018's San Diego Movie Comic Con.
The Trailers
Animated
Disenchanted
The Dragon Price
Voltron: Defender of the Universe
Young Justice: Outsiders
Star Wars: Clone Wars
TV Shows
The Gifted
Nightflyers
The Purge
Star Trek: Discovery
Doctor Who
Titans
Movies
The Predator
Fantastic Beasts: the Crimes of Grindelwald
Glass
Godzilla: King of Monsters
Aquaman
Shazam!
New Comics This Week – Sponsored by comiXology

Johnny
AMAZING SPIDER-MAN #2
DESCENDER #32
INFINITY WARS PRIME #1
MOON GIRL AND DEVIL DINOSAUR #33
SAGA #54
STAR WARS ADVENTURES #12
STAR WARS DOCTOR APHRA #22
STAR WARS LANDO DOUBLE OR NOTHING #3
TRUE BELIEVERS FANTASTIC FOUR BIRTH OF VALERIA #1
TRUE BELIEVERS FANTASTIC FOUR WHAT IF? #1
TRUE BELIEVERS NEW FANTASTIC FOUR #1
Brian
AMAZING SPIDER-MAN #2
DETECTIVE COMICS #985
HIT-GIRL #6
SAGA #54
STAR WARS DOCTOR APHRA #22
STAR WARS LANDO DOUBLE OR NOTHING #3
TRANSFORMERS LOST LIGHT #21
X-MEN BLUE #32
Contact Us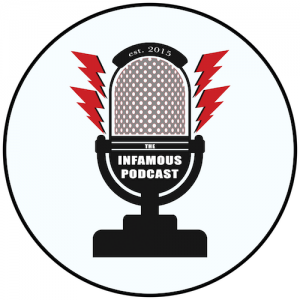 The Infamous Podcast can be found wherever podcasts are found on the Interwebs, feel free to subscribe and follow along on social media. And don't be shy about helping out the show with a 5-star review on Apple Podcasts to help us move up in the ratings.
@infamouspodcast
facebook/infamouspodcast
instagram/infamouspodcast
stitcher
Apple Podcasts
Google Play
contact@infamouspodcast.com
The music in this episodes is Moose from Bensound.com. The Infamous Podcast is Johnny Pottorf and Brian Tudor and is produced and edited by Brian Tudor.

Subscribe today!

from The Infamous Podcast https://ift.tt/2v7ZYvG
via IFTTT