Awards, Clones, Replicants, and Shattered Dreams
This week on the show Johnny and Brian are joined again by Cousin Kenny, making good on the promise to talk about Blade Runner 2049 and Altered Carbon. Then for fun they open the show with Oscar talk and share who they think were the big winners and losers.
News Bites
2018 Oscar Talk… Winners and Losers!
Blade Runner 2049
Summary
Blade Runner 2049 is a 2017 American science fiction film directed by Denis Villeneuve and written by Hampton Fancher and Michael Green. A sequel to the 1982 film Blade Runner, the film stars Ryan Gosling and Harrison Ford, with Ana de Armas, Sylvia Hoeks, Robin Wright, Mackenzie Davis, Carla Juri, Lennie James, Dave Bautista, and Jared Leto in supporting roles. Edward James Olmos also appears briefly in his role from the original film. Set thirty years after the first film, Gosling plays K, a blade runner who uncovers a secret that threatens to instigate a war between humans and replicants, leading him back to former blade runner Rick Deckard, played by Ford.
Cast & Crew
Directed by
Denis Villeneuve
Produced by
Andrew A. Kosove
Broderick Johnson
Bud Yorkin
Cynthia Sikes Yorkin
Screenplay by
Hampton Fancher
Michael Green
Story by
Hampton Fancher
Based on Characters from Do Androids Dream of Electric Sheep?
by Philip K. Dick
Music by
Hans Zimmer
Benjamin Wallfisch
Starring
Ryan Gosling as K
Harrison Ford as Rick Deckard
Ana de Armas as Joi
Sylvia Hoeks as Luv
Robin Wright as Lt. Joshi
Mackenzie Davis as Mariette
Carla Juri as Dr. Ana Stelline
Lennie James as Mister Cotton
Dave Bautista as Sapper Morton
Jared Leto as Niander Wallace
Barkhad Abdi as Doc Badger
Hiam Abbass as Freysa
David Dastmalchian as Coco
Wood Harris as Nandez
Edward James Olmos as Gaff
Altered Carbon
Summary
The series takes place over 350 years in the future,in the year 2384. In the future, a person's memories can be decanted in a disk-shaped device called a cortical stack, which is implanted in the vertebrae at the back of the neck. These storage devices are of alien design and have been reverse engineered and mass produced. Physical human or synthetic bodies called "sleeves" are used as vessels that can accept any stack. Takeshi Kovacs (Joel Kinnaman), a political operative with mercenary skills, wakes up 250 years after his previous sleeve is terminated. He is given the choice to either spend the rest of time in prison for his crimes, or to help solve the murder of Laurens Bancroft (James Purefoy), one of the wealthiest men in the settled worlds. Takeshi was the sole surviving soldier of those defeated in an uprising against the new world order 250 years prior.
Cast & Crew
Created by
Laeta Kalogridis
Based on
Altered Carbon by
Richard K. Morgan
Composer(s)
Jeff Russo
Executive producer(s)
Brian Nelson
James Middleton
David Ellison
Dana Goldberg
Marcy Ross
Mike Medavoy
Arnold W. Messer
Bradley J. Fischer
James Vanderbilt
Nick Hurran
Russel Friend
Garrett Lerner
Steve Blackman
Laeta Kalogridis
Producer(s)
John G. Lenic
Production company(s)
Virago Productions
Mythology Entertainment
Phoenix Pictures
Skydance Television
Distributor
Netflix
Starring
Joel Kinnaman as Takeshi Kovacs
James Purefoy as Laurens Bancroft
Martha Higareda as Kristin Ortega
Chris Conner as Edgar Poe
Dichen Lachman as Reileen Kawahara
Ato Essandoh as Vernon Elliot
Kristin Lehman as Miriam Bancroft
Trieu Tran as Mister Leung
Renée Elise Goldsberry as Quellcrist Falconer
New Comics This Week – Sponsored by comiXology
When you check out make sure to use the code 'Infamous' to get $5 off when you spend $15!


Johnny
CAPTAIN AMERICA #699
GIDEON FALLS #1
I HATE FAIRYLAND #17
INFINITY COUNTDOWN #1
OBLIVION SONG BY KIRKMAN & DE FELICI #1
STAR TREK BOLDLY GO #17
STAR WARS ADVENTURES #7
TRUE BELIEVERS VENOM SYBIOSIS #1
TRUE BELIEVERS VENOM VS SPIDER-MAN #1
WALKING DEAD #177
Brian
BATMAN #42
MIGHTY THOR #705
NIGHTWING #40
OBLIVION SONG BY KIRKMAN & DE FELICI #1
STAR TREK BOLDLY GO #17
STAR WARS #44
WALKING DEAD #177
X-MEN GOLD #22
X-MEN RED #2
Contact Us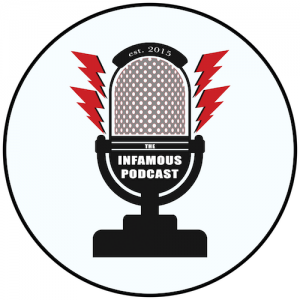 The Infamous Podcast can be found wherever podcasts are found on the Interwebs, feel free to subscribe and follow along on social media. And don't be shy about helping out the show with a 5-star review on Apple Podcasts to help us move up in the ratings.
@infamouspodcast
facebook/infamouspodcast
instagram/infamouspodcast
stitcher
Apple Podcasts
Google Play
contact@infamouspodcast.com
The music in this episodes is Moose from Bensound.com. The Infamous Podcast is Johnny Pottorf and Brian Tudor and is produced and edited by Brian Tudor.

Subscribe today!

from The Infamous Podcast http://ift.tt/2G9ba0d
via IFTTT